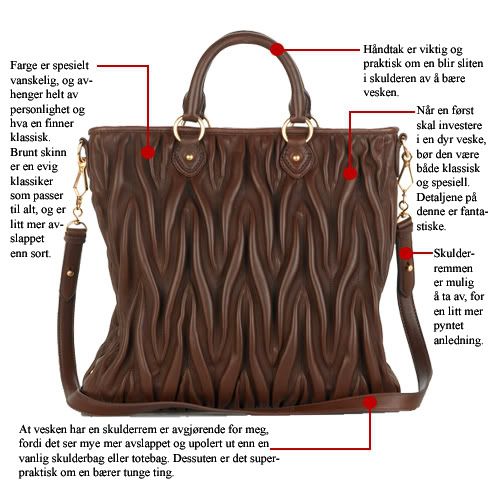 Enkelte lurer kanskje på hvordan en klarer å bruke flere tusen på en veske, og jeg har lyst til å vise fram hva jeg hadde kunnet investere fem tusen i om jeg hadde hatt penger (og sparetolmodighet) til det. Denne skjønnheten fra Miu Miu har fem gode kvaliteter som er viktige for en slik investering - alle satt systematisk opp ovenfor. Aller viktigst er det at vesken er alsidig. Og det mener jeg akkurat denne er.
Some people wonder how someone can spend a thousand bucks on a bag. If I only had the patience to save a lot of money, I could buy this beauty from Miu Miu. Here's four reasons why:
- The colour is just great for everything. Brown leather rarely clashes with your outfit and is often a good investment. A black leather bag is to me a bit too polished and up-did.
- It has a handle and shoulder-strap, so it's flexible, whether you choose to wear it across your shoulder or hold it in your hand if it's too heavy or uncomfortable.
- The shoulder-strap is detachable, so it's easy to make the bag look casual or more dressed-up.
- The details of the bag are very important when you invest in a quite expensive one. This bag's "pleats" make it a special, yet timeless piece.
The most important thing is, after all, that the bag is versatile. And I think it is.